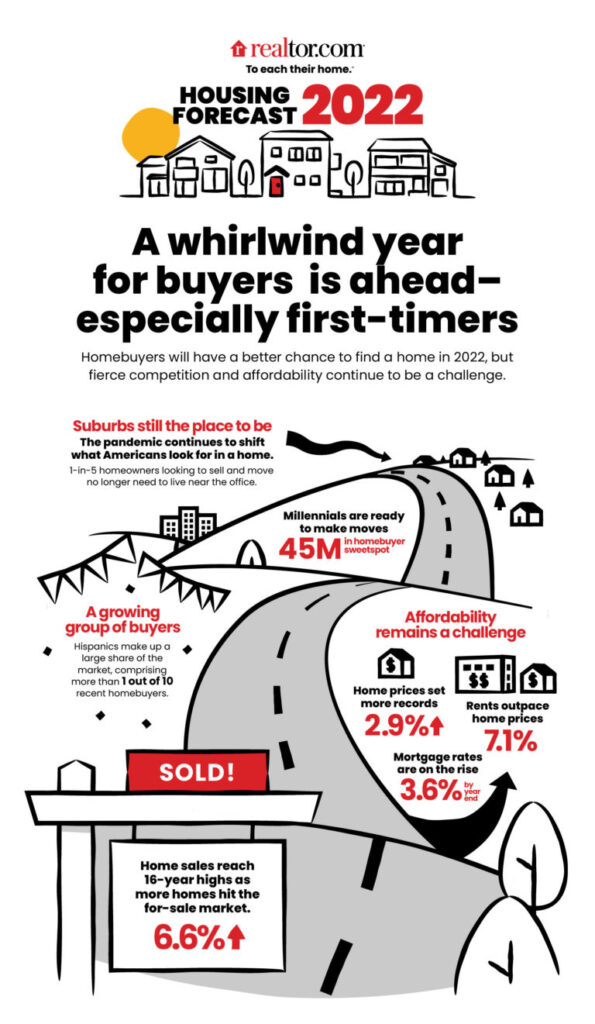 The pandemic led to a frenzy in the housing market, and 2021 proved to be all about sellers. Will that craze continue into 2022? And what else is on the horizon for residential real estate? Read on to learn what experts predict we'll see in the residential market this year.
Trend #1: Ongoing Competitive Sellers Market
Sellers will continue to hold the power this year, as more sellers are expected to enter the market. According to realtor.com, the 2022 housing forecast anticipates strong home sales growth with a 6.6% expected growth, marking a 16-year high for sales nationwide.  
What's more, first-time buyer demand will likely outpace inventory in 2022, driving prices higher and increasing competition for buyers to snag the house they want.
Trend #2: Remote Work & Flexibility Will Influence Choices
As the pandemic continues and the workforce adjusts with remote and hybrid work opportunities, homeowners will desire flexible spaces that can be easily converted or serve multifunctional needs, accommodating working or schooling from home. Also, many urban employees want to leave big-city life for remote opportunities in suburbia. Moving to the suburbs or more rural areas while working remotely allows employees to cut down on their commute time and have more space. 
This quest for flexible spaces outside of the city expands homeowners search areas and lets younger buyers join the market sooner than they may have been able to in the past.
Trend #3: Prices Will Continue To Rise
Listing prices, rents and mortgages will likely increase as incomes rise across the country. The growing economy and declining unemployment numbers will contribute to this trend. Supply and demand will surely affect prices, too, as there will be a continued shortage of new builds this year due to increased demand and ongoing pandemic-related lumber and labor shortages. 
This trend will contribute to trend #1, solidifying sellers with the power in 2022.
Trend #4: Millennials & 65+ Will Drive Action
Certain demographics will be responsible for most of the buying this year. The generations set to drive action in 2022 include millennials, many of whom are looking to buy their first home, and seniors 65 and up looking for retirement destinations. 
Jeff Benach, principal of Lexington Homes in Chicago, said, "As for new-home sales specifically, expect to see the continuation of Millennials as the demographic leading the charge in 2022." Millennials are a significant sector of the workforce, so their numbers may contribute to those looking to buy in suburban areas for flexibility and convenience, as well.
Trend #5: Buyers Will Have To Act Fast
The inventory of houses for sale will remain limited throughout the year, but experts predict it to grow on average 0.3% in 2022. To that end, homeowners looking to buy should be prepared to act quickly. Pre-qualification and pre-approval for mortgage loans may give buyers the edge they need. 
One benefit for buyers: interest rates are currently rather low, so buyers can afford "more" house for their money. 
Tips for buyers: 
Be realistic! Go into house hunting the awareness that the available inventory will likely be small while the competition will likely be high.

Make your list of home must-haves, wants, and areas in which you're willing to compromise 

Work with an experienced agent you trust. If you have questions about the residential real estate market in our area, or you're considering buying or selling this year, contact the team at RE/MAX County Wide 1st at (219) 362-9400.